Our approach towards testing and the design of our testing tools is based on a simple premise:
The demand on automakers and DSP personnel should be minimized and their productivity should be maximized.
With this in mind, Motive has developed processes and tools to
Push defect identification earlier in the process
Generate quick, specific, clear and comprehensive feedback
Our new suite of testing tools introduced earlier this year enables support across all testing phases. Together with existing Motive Integrator capabilities these tools provide for a more efficient and ultimately faster testing phase during dealer system integration projects.
We are automating testing where it's been traditionally been performed manually and resolving defects during development that traditionally were not discovered until Certification Testing. DSPs execute their development project more efficiently with reduced involvement of automaker staff.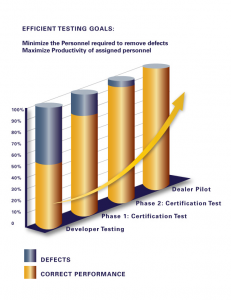 Motive Integrator BOD Evaluator & SOAP Evaluator – used during DSP Developer Testing
Motive Integrator Test Case Submission & Test Case Evaluator – support Certification Testing
With feedback from key providers such as ADP Dealer Services, Reynolds & Reynolds and DealerTrack we are continuing to refine and improve the capabilities of these tools. New enhancements are planned this summer!!