January 27, 2011 – Boulder, CO
Motive Retail announces the release of Dealer Service Activation (DSA), a new feature of its Motive Integrator dealer systems integration management portal. DSA has been in use with Volkswagen Group of America (VWGoA) and its Dealer System Providers since December 1, 2010 and manages service deployments across 17 dealer systems for VW and Audi dealers in the US and Canada on a daily basis.
DSA provides workflow that allows DSPs to request new interfaces be activated or deactivated for a dealer. Requests and associated documentation are routed between the requesting DSP and the automaker with notifications of activity emailed to all parties involved. Current status for all dealers is maintained online for all parties to view.
DSA can be integrated with either automaker or DSP systems to further streamline the process of service activation and can support activations on either an individual dealer or bulk basis.
The new feature also provides significant new reporting capabilities for both the automaker and the DSP. Both parties can view deployment status at both an aggregate and dealer-specific levels. Automaker personnel have unprecedented access to accurate information about the dealer systems their dealers are using. This information can be viewed by brand, country, region, DSP and dealer system allowing automaker personnel to make better informed decisions about dealer systems initiatives.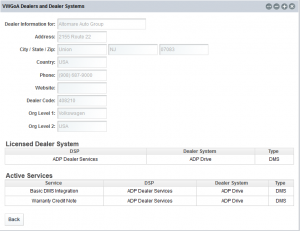 Motive Integrator is an online platform designed to support all of the activities associated with rolling out new integrations to DSPs and dealers. Web 2.0 technologies are combined with process and workflow management to provide a modern platform that simplifies and accelerates DSP integration, certification and dealer service provisioning. Whether you're an automaker or DSP, Motive Integrator is where you find everything you need - project status, specifications, test results, support, dealer service activation, industry, DSP, automaker information and more.