We've published several articles in this blog about expanding the functionality in Motive Integrator, refining our processes for Dealer System Certification, and even Self Certification. Our organization has made huge strides toward providing Subscribers and Publishers with the tools needed to effectively implement and test integrations.
With the spirit of innovation in mind, we took a step back to examine the start of the systems integration process. Foremost, it begins with the careful discovery and documentation of interface definition and requirements. This serves as the core of information sharing among technical resources for Subscribers, Publishers, and even Motive Retail. There is a direct correlation between the quality of this documentation and the efficiency of technical development, testing, and certification. As you can tell, this deliverable is paramount in ensuring systems integration success.
So what is Motive Retail doing in order to promote clear and thorough understanding of systems integration requirements?
Listening
As part of a holistic process, user research helps us determine exactly how our documentation is being consumed. Working directly with both OEMs and DSPs combined with our broad experience in the automotive industry places Motive Retail in prime position to hear and identify the pain points associated with systems integration. From the onset of our documentation, the majority of our users want: Simple process steps, Intuitive layouts, and Consistency.
Learning
We want to ensure our documentation does not raise more questions than they answer. Unclear documentation results in rework, delays, and overall dissatisfaction. Users will have trouble taking action when it is difficult to find information important to their work. To solve this problem, we are employing usability standards in our documentation. Usability is vital in helping users achieve specific goals such as understanding the business process, visualizing the data structure, and executing the steps necessary to successfully complete their tasks (in this case, systems integration).
Applying
Taking our findings, we are creating deliverables incorporating both document and user-centered design. This means new improvements in Motive Integrator such as:
Simpler navigation, with an emphasis on process flow and consistent guidelines across interfaces.

Business Overview/Context
Technical Data and System Requirements
Directory of Sample Artifacts
Testing and Certification Instructions

Active data integration specifications enabling readers to easily view data structure and nesting.
Subscription capabilities, notifying users of changes and updates in a timely manner.
When will you be able to see our refined approach? Now. With great positive reception, we have started publishing these updated deliverables to some of our clients such as Daimler, Porsche Cars NA, Kawasaki, Polaris, and BRP.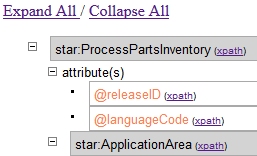 Motive Retail's new Active Specifications help users clearly understand data structures and customize their view in order to work more effectively.
Listening...more
The innovation does not end here. Motive Retail is committed to measuring results and listening to our customer's feedback in order to make the systems integration process more efficient.