Motive Helps MaxxTraxx be the First SMS to Integrate with FordParts.com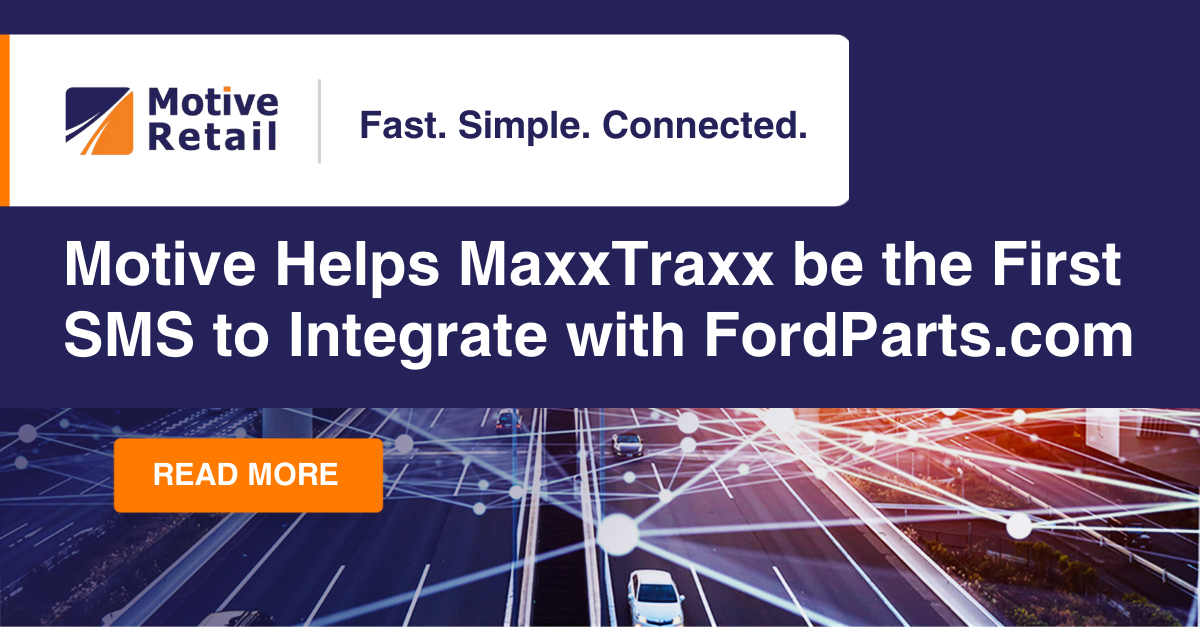 BUSINESS WIRE -- Sept. 15, 2022 09:21 AM EDT
Motive Retail, global systems integrator, announced today that MAXXTRAXX by Scott Systems will be the first shop management system (SMS) to fully integrate with FordParts.com, thanks to help from their integration platform, Motive Integrator eXchange (MIX).
Now, MAXXTRAXX system users can look-up parts directly from the FordParts.com catalog, see their preferred dealer inventory levels and pricing, and seamlessly place and manage orders for Ford parts without leaving the shop management system, saving them time and hassle. This integration gives independent repair shops an efficient, cost-effective way to order Ford authentic parts and Ford Dealers a level playing field against aftermarket parts suppliers.
"As the automotive repair industry changes, tougher competition and shrinking profit margins have become a way of life for shop owners and being profitable in this economic environment has become more difficult. As a leading shop management system provider for the automotive repair industry, we are dedicated to enhancing our customers' ability to better manage their business. The ability to access FordParts.com and place orders directly through MAXXTRAXX is a game changer when it comes to shop efficiency and billable hours," says Mark Giraud – President, Scott Systems.
The real-time integration between MAXXTRAXX and FordParts.com provides independent repair shops with a seamless online ordering experience made possible by automotive integrator, Motive Retail, using MIX.
MIX is a multi-user integration platform with built-in automation tools that leverages a catalog of standardized industry APIs and expert support to help companies build, manage, and maintain complex integration projects at scale.
According to Motive Retail Co-Founder Kim Campassi, "Spare part sales is a critical piece of the business for any OEM. This initiative helps increase sales and improves the order to delivery process through seamless integration of the software used by dealers and repair shops with the FordParts.com eCommerce site. Making it easier for independent repair shops to order OEM parts is an exciting advancement of our MIX solution."
FordParts.com is Ford's official eCommerce site for Ford Genuine Replacement, Collision, & Motorcraft parts.
About Motive Retail
Motive Retail is a leading integrator focused on modernizing the automotive retail experience by enabling real-time data flow between all parties in the ecosystem. Our high-performance platform leverages a catalog of common industry APIs, built-in automation tools and expert support to streamline the integration process, so you can optimize business operations, staff efficiency, customer service, and data integrity.
About Scott Systems
Scott Systems is a group of professionals with expertise in the automotive aftermarket, service repair, and computer industries. As a leading software publisher for the automotive repair industry, Scott Systems is dedicated to helping independent repair shop owners and operators better manage their business by providing them with low-cost high-performance PC software. Complete with product training and support services, our system improves management of inventory, employees, and cash flow, so you can provide customers with the best service experience possible.