Have You Factored Integration into Your 2023 Roadmap?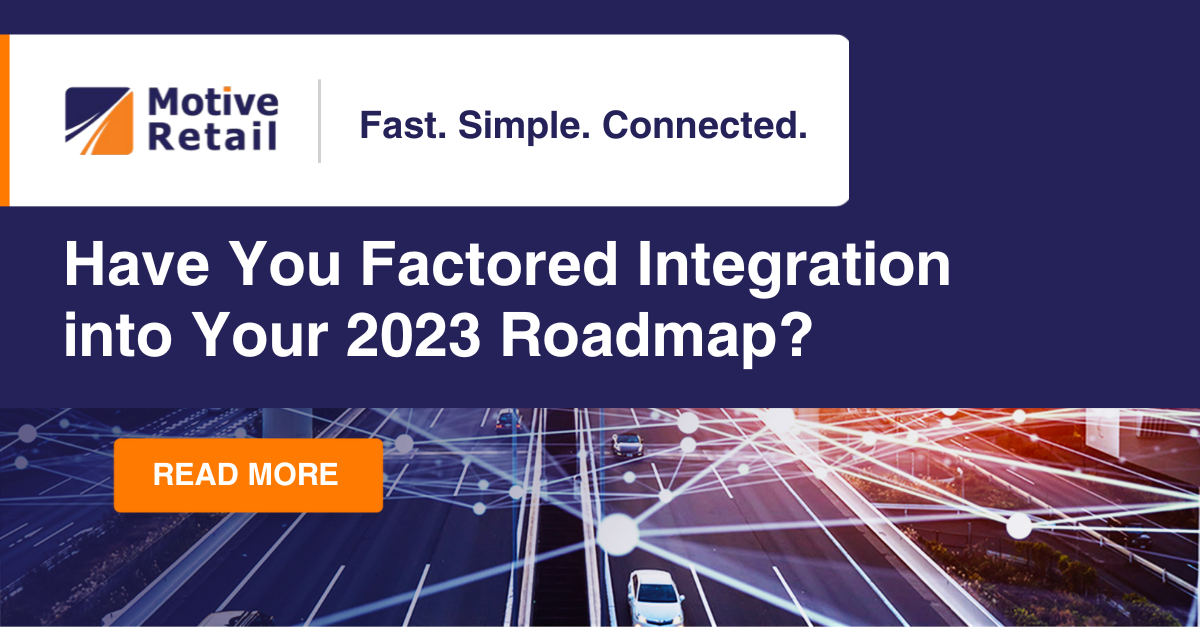 Q4 is officially here with 2023 fast-approaching. OEMs, Dealers, DMS, and specialized DSPs alike all have ambitious projections for the year ahead but how does integration factor into your plans for 2023?
It's no secret that consumers want a more seamless brand experience from online to in-store. Digitization of vehicle sales and service processes has transformed the way dealers do business, creating a need for new integrations between systems to operate successfully and deliver the connected experience customers demand.
According to the McKinsey & Company article Digitization in Automotive Retail in 2021 and Beyond, "All the digital touchpoints during the car-buying journey need to be connected. The customer expects it all to work. And when it works, you get their full attention and some money with it."
The article also got Director of Global Automotive at Google Christian Richter's perspective who says, "The industry is facing an omni-channel retail transformation. We once measured all the digital touchpoints during the car-buying journey. There were about 900 individual touchpoints that reach across websites, digital advertising, and CRM [customer relationship management] systems that touch call centers that touch systems that are built into the physical dealership. All these data points need to be connected."
But it's not just consumers driving changes to the automotive retail process, the FTC has also stepped in proposing rules to protect consumers who are lured in the door by false online advertising.
The proposal states, "deal deception can include the cost of a vehicle or the terms of financing, the cost of any add-on products or services, whether financing terms are for a lease, the availability of any discounts or rebates, the actual availability of the vehicles being advertised, and whether a financing deal has been finalized, among other areas."
Bottomline: Dealers need to be working off of the same systems from online to in-store in order to ensure consistent numbers.
When every dealer uses about 10-14 different systems to manage operations, often the numbers provided by digital retailing tools on their website don't match up with the numbers displayed on their in-store management tools. This disconnect in system information is the root of the problem for customers and the FTC.
Rolling out an integration program to multiple software systems yourself is both expensive and time-consuming. And custom integration with each dealer system will stifle your roadmap, prolong ROI, and hinder customer retention. When time equals money, direct integration with multiple systems and one-off use cases is an overall risky approach.
So how do you efficiently and cost effectively create a more connected customer experience?
Motive Retail™ has an integration solution to meet your business's needs, whether you're an OEM, DMS, or specialized Dealer Service Provider (DSP).
We are a leading integrator focused on modernizing the automotive retail experience by enabling real-time data flow between all parties in the ecosystem.
Motive Integrator Suite™ is a complete integration toolbox with everything you need to streamline the development and management of real-time data transmission between any system in automotive retail.
Our high-performance integration tools are designed to help you optimize business operations, staff efficiency, customer service, and data integrity.
So if you're planning to integrate in 2023 and want to scale program development while simplifying management, you should contact Motive Retail for a consultation.